1. The Ethnographic Turn #4 - Ergin Çavuşoğlu - The Atlas of Differences Intact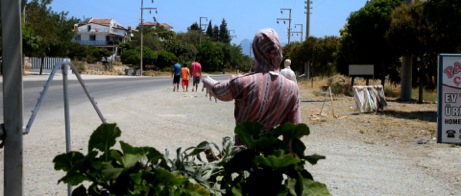 © Ergin Ergin Çavuşoğlu: Résurrection des Mannequins (2014), Single channel (1920 x 810) HD video, sound, 05:32 min. Courtesy the Artist and Rampa, Istanbul.

Thursday 19.02.2015 / 19:30 @ deBuren - Leopolsdtraat 6 - 1000 Brussel
Ergin Çavuşoğlu will focus on the broader themes of in-betweenness, mobility and transient places. The concept of liminality is central to his art and research, which he has been exploring in a diversity of media, including narrative film, video and sound installations and sculpture. Çavuşoğlu will map a journey that spans across geographies and time whilst pushing through regime changes and negotiating cultural differences. The conceptual approach to site in his work is very much encapsulated by the notion of "conjoined practices of travel and translation" as distinguished by James Clifford.
The pattern of literary references in his large-scale narrative video installation works unfold a series of moral parables that have a notional relevance to contemporary art, and furthermore comment on the creative processes and the conditions of cultural production at large. The spatiality and the immersive qualities of his installations further emphasise and aid the understanding of these concepts in the ways they are experienced by the viewer.
He will introduce a range of projects including Lundy, Louis, Barge and Troy (2014), Résurrection des Mannequins (2014), Desire Lines /Duende/ (2011), Backbench (2010), Crystal & Flame (2010) and Liminal Crossing (2009) among others.
moderated by Kris Rutten, Ghent University
The ethnograhic turn (revisited) is a collaboration between SoundImageCulture, ARGOS, deBuren, Beursschouwburg and KASK – Ghent
reservation:
soundimageculture@gmail.com
-
http://www.soundimageculture.org/
2. e m w a p FESTIVAL from 15/03 - 05/04/2015 in Istanbul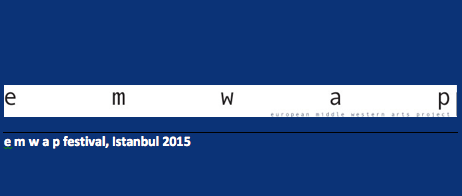 The EMWAP (European Middle West Arts Project) festival presents six productions that are all reflecting on the hybrid space between East and West.

All these productions - ranging from performance to dance and theatre - were made in the last two years by creators who worked in different countries, who are from different countries or who tackle issues from different countries.
How does this influence their work? Does the changing of the context in which they work seep through in the content of the creation? Does the bringing together of artists with a different background result in a hybrid production? Is there a difference in the way the public receives the work according to the context of where the play is performed?

Central notion that will be concentrated on in reflexive debates / Q&A's and after talks is the notion of "variability" leading to intertwined notions such as "uncertainty, flexibility, adaptation and versatility/diversity".
The EMWAP project is the result of collaboration between four international partners:
PLATFORM 0090 / Belgium - ARCOLA THEATRE / United Kingdom - PRODUCTIEHUIS ROTTERDAM / Netherlands - TALIMHANE THEATRE / Turkey

at following venues:
SALT Beyoglu
:
CURATING SPACE
- Erki De Vries, Pieter Huybrechts, Kris Delacourt
Moda Sahnesi
:
SCHWALBE CHEATS - Schwalbe -
AUTONOMOUS SCENOGRAPHY
- Meryem Bayram -
WE NEED TO MOVE URGENTLY
- Taldans
Talimhane Tiyatrosu
:
SHRAPNEL: 34 FRAGMENTS OF A MASSACRE
- Anders Lustgarten
Tiyatro D22
:
HOLY HOLY HOLY
- Copycats